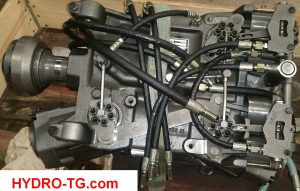 Repair hydraulic gearbox vario hydraulic transmission of agricultural tractors FENDT, Massey Ferguson Dyna VT, JCB Fastrac and all the hydraulic tractor range AGCO, Valtra, john deere ZF, Claas, VNH, New Holland Cnh, Case IH, Deutz…
The Vario gearbox that we repair the most is the ML160, which is notably mounted on Fendt 818, 820 and 828 which is probably the most sold tractor by fendt at the moment.
The VARIO hydraulic continuously variable transmission was invented by the tractor brand FENDT in the 80's, this type of hydromechanical transmission is very complex and specific.
Vario gearboxes, Vario module gearboxes, use a combination of hydrostatic and mechanical units, with single or double hydraulic motor, depending on the power output.
We repair gearboxes of all series: fendt vario 200, fendt vario 300, fendt vario 400, fendt vario 700, fendt vario 800 and fendt vario 900. The ones that come the most are those mounted on the 800 series.
A question a need? contact us
HYDRO-TG
38 rue Jules Guesde
59390 Lys Lez Lannoy, France
Tél : +33 (0)3-2002-2003
GSM/Whatsapp +33 (0)6 04 18 77 20
contact@hydro-tg.com
---
Fendt vario gearbox serie 1000
The Fendt 1050 vario tractor develops 500 hp of power. available in four models: 1038,1042,1046 and 1050. Power ratings between 380 and 500 hp. 14 t tractor with tyres up to 2.35 m high
Since 2009, all Fendt tractor series have been equipped with this continuously variable transmission Vario gearbox
Fendt also supplies transmissions to Massey Ferguson and JCB and we also repair them.
The Bavarian manufacturer Fendt and this continuously variable transmission, developed in 1995, produced more than 250,000 Vario transmissions.
Reparation vario gearbox FENDT
Reparation vario gearbox FENDT, fendt 818 vario, fendt 820 vario, fendt 828 vario, transmission vario fendt, vario gearbox  fendt, fendt 1000 vario, fendt 1000 boite vario, fendt vario 1050, boite hydraulique fendt 900 vario, boite vario fenft 926 Favorit, fenft 926 TMS boite vario, fenft 920 boite Vario, fenft 922 boite Vario, fenft 924 boite Vario, fenft 927 boite Vario, fenft 930 boite Vario, fenft 933 boite Vario, fenft 936 boite Vario, fenft 939 boite Vario
fenft 920 Favorit Vario, fenft 920 Vario TMS, fenft 922 Vario TMS, fenft 924 Favorit Vario, fenft 924 Vario TMS, fenft 926 Favorit Vario, fenft 926 TMS Vario, fenft 927 Power Vario, fenft 927 TMS Vario, fenft 930 Favorit Vario, fenft 930 Power Vario, fenft 930 TMS Vario, fenft 933 Profi Vario, fenft 933 TMS Vario, fenft 936 Profi Vario, fenft 936 TMS Vario, fenft 939 Profi Vario, fenft 939 TMS Vario, fenft 1038 Power Vario, fenft 1042 Profi Vario, fenft 1050 Profi Vario